Biography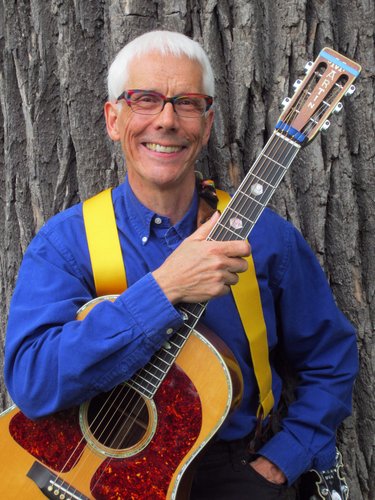 Hi! I'm Jack Pearson. As long as I can remember I've been in love with music, words and the meaning of things. I was born in California but spent my growing up years in Alexandria and Minneapolis, Minnesota. My dad was a Lutheran pastor and my mom played the organ. I grew up on hymnody, folk music and early rock and roll. I love wood as did many of my Swedish ancestors and so, naturally, was drawn to the acoustic sounds of wooden instruments. I was smitten by the guitar at a campfire sometime in 1965 and have yet to recover. The banjo came shortly thereafter and also has a special place in my heart. I was part of a little folk group in junior high with my brother, Brian, and a couple of friends - Harry and Wendy. I don't remember what we were called but we had a lot of fun playing salad luncheons and church youth events. One time someone paid us five dollars and I could hardly believe it! Someone was paying me money? To play music?!?! Okay, it was only $1.25 because we had to split it four ways, but that experience helped kindle a dream I've been chasing ever since. Favorite musicians in those days included Peter, Paul and Mary, the Goldbriars, the Kingston Trio, Simon and Garfunkel, Gordon Lightfoot and a guy named James Taylor.
I started trying to write my own stuff, too: poetry and songs with the encouragement of a beloved high school teacher, Mr. Wally Kennedy. My dad played the mandolin so that joined what I was doing along with the fiddle. I studied fiddle for awhile with Mark O'Connor while going to school in Seattle. I then spent a couple of years at the University of Minnesota and taught at a fun music store called the Podium. In those days I listened a lot to the music of John Hartford and Norman Blake.
Since 1979 I've performed full-time for kids and families in the Upper Midwest and around the country in every situation you can think of. I bring a music/story experience of imagination, spirit, folklore and history on guitar, fiddle, 5-string banjo and an assortment of small percussion instruments including my one-and-only amplified toy box lid. I'm a songwriter with one foot in our American folk tradition and the other joyfully lost in the landscape of imagination. I work with K-6 kids in schools both as a performer and resident artist. I also work closely with churches helping with worship or doing a concert for the kids or families.
I met Nancy Isaacson at a camp in Wisconsin when we were twelve. We were married in 1978 and have been ever since. Nancy and I live way up on the upper Mississippi in Minneapolis. We have two amazing kids, Peter and Kari, both grown up now and pursuing lives in children's literature; Peter in writing and Kari in illustration. I make good pancakes, love to read, and wear suspenders a lot. I also love and understand rocks.